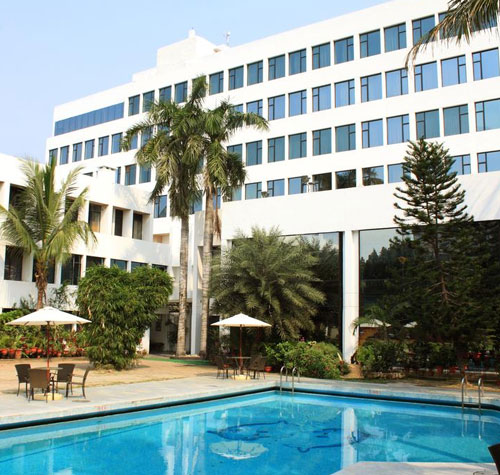 Hotel Maurya, Patna
Fraser Road, South Gandhi Maidan, Patna, Bihar 800001
Hotel Maurya-Patna is a pioneering project of Bihar Hotels Limited (BHL). BHL has been successfully operating its five star Hotel in Patna since 1978. And since then, the company has generated foreign exchange for the state of over Rs. 34 million. Most of this income has been generated from foreign tourists coming from Japan and the Far Eastern countries.
The hotel property is located on a two and a half acre plot in the prime commercial area of Patna (Gandhi Maidan). Its prime location gives the hotel a definitive competitive advantage over any other existing or new hotel since land is very scarce and expensive in central Patna. The hotel offers 80 centrally air-conditioned rooms with three food outlets, four conference, banquet facilities, swimming pool and so forth.
The state of Bihar has a number of historical sites of supreme interest to Buddhists from all over the world. The capital city of Patna is visited by a large number of travellers as well as elite business travellers, both domestic & international. Maurya-Patna is the only 5 star hotel in Bihar and Jharkhand to cater to such a tourist market. It is located on prime property in the heart of commercial Patna, giving it a definitive locational advantage over any current or future competitors. Not only that, the commitment to continuous enhancement in service levels remains forever high. It is a constant endeavor on part of the management of the hotel and their core team, to benchmark quality standards against the best in the industry.
Basic Services
The hotel is centrally air-conditioned; and if you are here for business or pleasure, it is our endeavour to see that the best conditions are provided to you. We strongly aim to make this as Your Home & Office, Away From Home!
Business Centre
State-of-art business center facilitates all business activities. The center also provides round-the-clock email and Internet access. There is provision for photocopier and faxing machines along with modern presentation equipment.
Car Rental facilities are available through our Business Center. We recommend that you use our official car rental facilities as it is not advisable to rent vehicles from independent operators.
Swimming Pool
Clean and Filtered Swimming Pool Water
Bakery
Varieties of freshly-baked bread, Bread rolls, French loaf, Cookies, Cheese straws and Cakes with Free Home delivery
Barber / Beauty Salon
"Menaka" beauty Salon is located in the shopping arcade of the hotel and offers various beauty treatments and services including hair cuts.